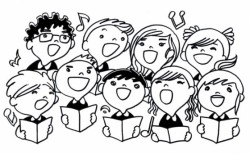 As you may know, AMF has been advocating for AUSD to bring a more extensive program to our elementary schools. We have spent several years working on this project, meeting with District staff and stakeholders, surveying and reaching out to parents and, last year, delivering a proposal for a comprehensive music program for our students.
With lots of support from many of you, we are delighted to say that AUSD has added three more years of music at the elementary level, so that we can now say Albany has a sequential program for students from grades 1-12. Here's what's in store for elementary students in Albany this year:
Grades 1-3: Thirty minutes of general music per week following a Kodaly curriculum
Grade 4: "Wheel" of instrumental, vocal and musical theater & dance
Grade 5: Full-year option for band, choir or musical theater & dance
Plus: After school "District Band" with weekly sectionals and concerts combining all three schools. Join these free after school classes for band students!
All these programs will be delivered by highly qualified music specialists employed by AUSD. In grades one through three, a team of three Kodaly Master Teachers will cover our three elementary sites–Samantha Maas-Baldwin (Cornell), Nancy Linford (Marin) and Jeff Luna-Sparks (Ocean View). Jeff and Samantha will also teach choir and the musical theater/dance classes. Instrumental music specialist Mark Nemoyten will join the team for grades 4-5, teaching the instrumental segment of the 4th grade "wheel" and also leading the 5th grade band program.
While we are still working with the District to fold our TK and K grades into the program as well, this is already a program to be proud of–as comprehensive (or more so!) than what most districts in our region are able to offer students.
Let's all work together to support our students in these programs and make sure they thrive!
AMF will be providing generous financial support for the 1-5 program (see specific program elements we will fund this year below).
We are also helping right now to recruit volunteers who want to support our elementary program by working directly with our music teachers. Help will be needed both during school hours and for evening "prep" projects–some jobs will be regularly scheduled and some will be one-time needs. Absolutely no music experience is needed–just an interest in helping our kids thrive through music–but if you do have specific music skills, that's great, too!
Email volunteer@albanymusic.org to get onto the volunteer list at your site. Let us know what site(s) you could help at and what grade levels or programs you're most interested in assisting with. By sending an email, you're not making any commitment–your contact information will be forwarded directly to the relevant music teacher(s), so that they can reach out to you when they need help.
So jump in, get involved, and help make our new elementary music opportunities the best they can be for our kids!
And don't forget, your donations also support elementary music. This year we have already confirmed support for:
Sheet music for choir and band classes
Supplies for Kodaly and musical theater & dance classes
Instrument repair to keep our library of instruments in working order
Skilled music aides for 5th grade band in the Fall, for a successful start to the year
And we expect to provide eve more support and materials for our teachers as they work to build a strong, expanded elementary program. We welcome your donation to keep these resources available. Our recommended donation for elementary families is $100 (but give whatever you can!) Click here to make your tax-deductible donation now.